The first event in the 2014 Nissan TrailSeeker Series was hailed by many as a mountain biking jewel. True to form the Diamond Rush event held in the diamond mining town of Cullinan was sold out weeks before testment to the ever-growing popularity of events put on by Advendurance.
Nico Bell from Team RE:CM and Robyn de Groot (Biogen Toyota) walked off with the laurels in the marathon. Bell narrowly beat ex teammate Gawie Combrinck (EAI Cycling) after a hotly contested race. The telling move came shortly after the Dunlop hot spot at 23km into the event when five riders went clear.
The introduction of the Dunlop Hot Spot designed to make the racing even more interesting did just that. Young gun Arno du Toit (ASG Cycling) managed to outpace some of the big names. Arno du Toit joined by Bell, Combrinck and Duathlon legend Brand du Plessis together with Max Knox (FedGroup Itec) made up the main group of five who continued to speed through the spectacular marathon course.
According to Knox he really tried shaking his competitors but the hills simply weren't big enough to put enough time into them to stay clear. Combrinck managed to go clear after a telling acceleration towards the end caught out a tiring Knox. Bell bridged the gap and worked well with his ex teammate.
Coming into the finish straight it was Bell who appeared first and took the win seconds ahead of Combrinck. The win bodes well for Bell's assault on the South African Marathon title next weekend. The podium was rounded off by Brand du Plessis followed by Max Knox and Arno du Toit in 4th and 5th respectively.
"It was great preparation for Marathon Champs" Bell commented after his win. "I loved the new route, it is a massive step up from last year and it was really fast from the gun" an excited Combrinck added.
Reigning South African Marathon champ Robyn de Groot (Biogen Toyota) made light work of the course and took a comfortable win wearing the green and gold possibly for the last time. "I am really happy with the win and especially because this might have been the last event I ride in the National colours, who knows what will happen this weekend" de Groot commented. "I really enjoyed the course it kept me entertained throughout".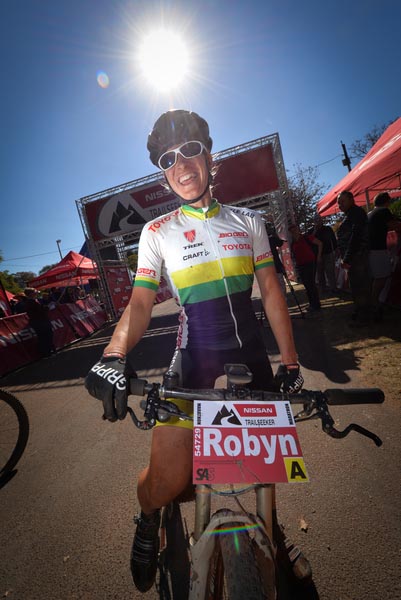 The two Velo Life ladies rounded off the women's marathon podium with Ashleigh Moffat in 2nd and Lise Olivier in 3rd.
Results:
Nissan TrailSeeker Marathon Men:
1. Nico Bell (02:37:48)
2. Gawie Combrinck (02:37:53)
3. Brand du Plessis (02:38:27)
4. Max Knox
5. HB Kruger
6. Shaun-Nick Bester
7. Hanco Kachelhoffer
8. Stephan Reyneke
9. Guylin van den Berg
10. Thinus Redelinghuys
Nissan TrailSeeker Marathon women
1. Robyn de Groot (02:58:16)
2. Ashleigh Moffat (03:11:09)
3. Lise Olivier (03:13:15)
4. Yolande Speedy
5. Adrienne Moolman
Source: Advendurance Media